Email marketing
Catapult Your Sales With Your Current Traffic
Email marketing is indispensable for e-commerce businesses that want to avoid losing money.
Partner NPS Score (out of 10)
Return on Klaviyo investment
Overall Attributed Email Revenue
Revenue attributed to Klaviyo Email
E-commerce businesses often invest most of their money and effort into paid advertising. While paid advertising can certainly help your business grow, most e-commerces overlook an essential fact: every time a prospect visits your website, you lose money.
Your website, without email marketing, is like a water bucket riddled with holes that constantly gets refilled. How do you cover these holes and prevent losing water (read: customers)? By implementing crucial email marketing strategies that will help you retain new, existing and old customers: abandoned cart emails, database segmentation, special offers, product launches, etc.
Email marketing is THE #1 retention strategy for all self-respecting e-commerce businesses. When a prospect leaves your website without making a purchase, you can surely always target them again via paid advertising. But, you'll definitely pay the price, so to speak, each time your ad succeeds in converting prospects. With an effective email marketing strategy in place, you can avoid losing customers and paying more than you have to to convert them.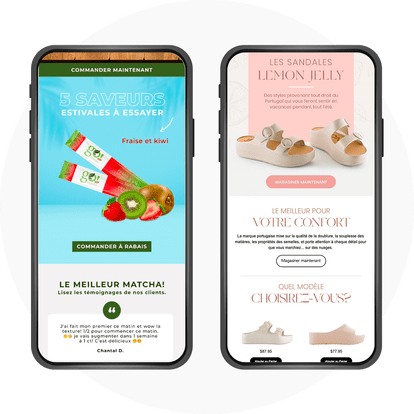 Why work with Pure Commerce?
Our Email Marketing Specialists have been recognized for their work and expertise by Klaviyo, the #1 email marketing platform we recommend to our clients. Pure Commerce has earned both Klaviyo Master and Gold Partner certifications, allowing our team to be the first to know about email marketing best practices, new features, and more. It goes without saying that our knowledge can only benefit you!
What does this service include?
An audit of your business or existing email marketing strategies, a detailed report with measures to put in place, and strategic and creative proposals. The Pure Commerce team will produce all emails for you in order to respect the latest email marketing trends and best practices.
In 2021, Pure Commerce's email marketing generated:
An average Klaviyo ROI of 83
$559,000 in sales
Over 1000 emails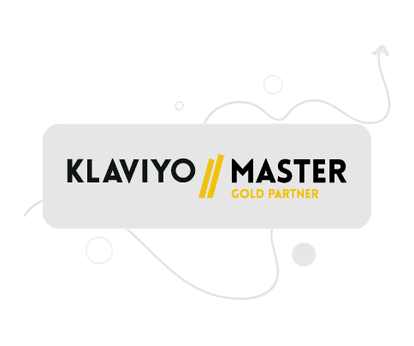 +36% increase in monthly sales in one year
For one of our e-commerce clients, a brand that sells children's clothing, we:
Produced and implemented all essential email marketing flows: Welcomes Series, Abandoned Cart, and more
Produced and ran a warm-up sequence
Created monthly email marketing calendars and produced emails on a number of topics: new releases, featured products, sales and special offers, and more.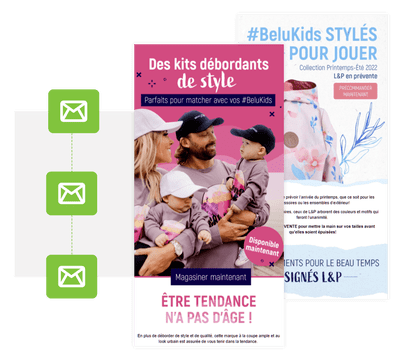 Increase in Customer Lifetime Value
Each customer now generates more and more revenue as their child grows older.
By playing on necessity, emotion, and urgency, we converted more existing customers with each email.
Orders per customer who ordered more than once
As soon as you get a customer to make a second purchase, you have them in your pocket! The magic of the upsell offer.
Thanks to our help, this e-commerce can now actively focus on bringing traffic to its website without the fear of losing money. Their email marketing allows them to convert prospects in the long run.