Social ads service
Encourage your customers to take action. Don't just wait for them to!
Our Social Media Advertising services for e-commerce businesses
WHY ADVERTISE ON SOCIAL MEDIA?
Advertisers are competing to show up at the top of consumers' Google search pages, often paying a fortune for just a few clicks. And while it's true that such visibility can benefit an advertiser when a prospect is in the buying process, do other (more profitable) advertising channels not exist?
How much time do consumers spend browsing search results compared to scrolling on Instagram, Facebook, or Tik Tok? There's no comparison.
Waiting for your potential customers to eventually find you on Google is an obsolete strategy when YOU could find them much earlier.
Social media advertising allows you to "plant a seed" in your prospects' minds before your competitors. While your prospects are only scrolling through social media for entertainment, it's possible that your ads interest them and they immediately take the next step.
The result? No fighting to get your prospects' attention on Google. No praying they click on your search ad and visit your website. Social media ads immediately redirect your prospects to your e-commerce store, inciting action.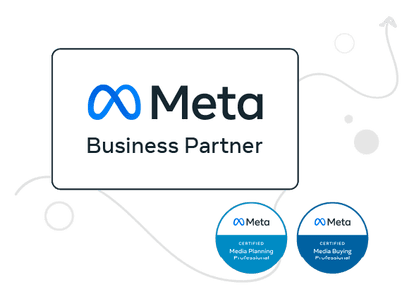 WHY WORK WITH PURE COMMERCE?
At Pure Commerce's core is an undisputed expertise in Social Media Advertising, particularly, Facebook Advertising. All of our Media Buyers have received Meta certifications, and our agency was one of the first Francophone agencies to become a Meta Business Partner.
And because knowledge and excellence is at the foundation of all we do, our Creative Team is also Meta-certified.
When you choose Pure Commerce, you're choosing a team that is always on top of advertising best practices, has a rigorous testing department, and exclusive access to live workshops with the Meta Team.
Valuable expertise that naturally finds its way to Tik Tok advertising as well.
IN 2021, HERE'S WHAT OUR SOCIAL MEDIA ADVERTISING SERVICES LOOKED LIKE:
More than 16M USD in advertising budget

Over 20,000 video ads

3 Meta Case Studies