Tik Tok & E-Commerce in 2022
We recently attended Insider Intelligence's webinar TikTok Commerce: Strategies For Success In 2022.
For around an hour, we listened to a Data Analyst speak on the future of TikTok in the world of online marketing and shopping. The first point that stood out to us was the hashtag #TikTokMadeMeBuyIt.
#TikTokMadeMeBuyIt is a hashtag and TikTok trend that centers around videos demonstrating a product a user purchased because of TikTok. This sets the stage for the rest of the presentation, and the rest is impressive:
TikTok is estimated to grow to 765 million users by 2022.

#TikTokMadeMeBuyIt has around 10 billion views worldwide.

Users worldwide have seen the hashtag an average of 13 times, which is a huge number.
By the way, if you decide to take UGC video workshops to learn how to showcase your products, it is strongly recommended that you watch videos with this hashtag.
The webinar started with a study published in February 2022 that measures users' relationship with e-commerce on the platform.
Out of more than 3,600 people over the age of 13:
71% of respondents said they made purchases based on content they saw on TikTok.

58% of respondents say they found inspiration for future purchases.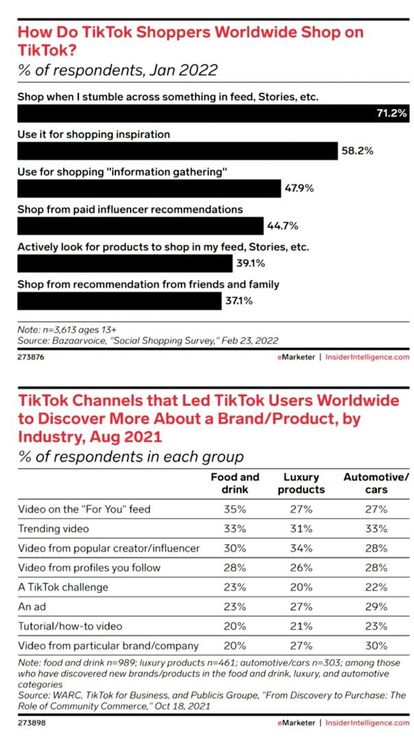 Excerpt from the TikTok Commerce Webinar
A different study tells us that the TikTok feature that generates the most discoveries and, therefore, purchases is the user's "For You" feed. However, purchases can vary depending on the types of products being offered.
Take luxury products, for example. Users often discover luxury products through videos of popular influencers. The automotive industry, on the other hand, generates results via ads and trending videos.
It's important to note that TikTok doesn't necessarily trigger purchases. Data shows that most purchases are made outside the platform. Instead, TikTok is a method to inspire users to research brands and products for themselves.
To understand this principle, Insider quoted a study released in September 2021 that showed that while 25% of respondents said they TikTok content inspired them, only 15% of them went on to make a purchase.
If we compare to Facebook users: 67% of respondents said they were inspired, and 74% made a purchase after the fact.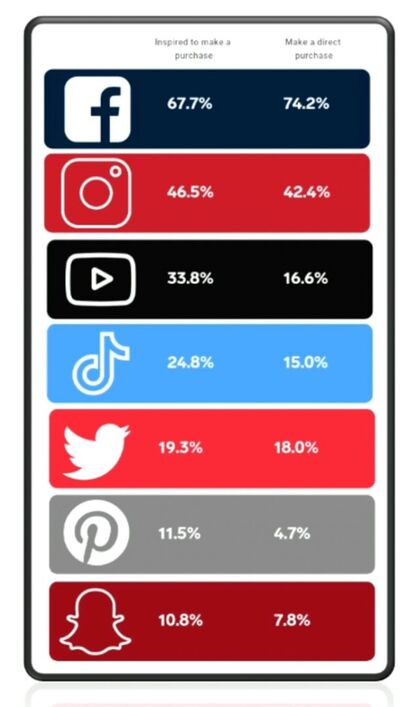 Excerpt from the TikTok Webinar
This could mean several things.
1/ Facebook has more features that encourage users to trigger a purchase. However, keep in mind that the survey was conducted in the US, where online shopping via Facebook is much easier for users than in some other countries. TikTok is still behind technologically.
2/ The survey's demographics are questionable, since it polled adult respondents, and TikTok has a strong teenage/young adult user base.
It's well known that Facebook ads can be highly effective. But, it is possible that the difference in sales numbers between TikTok and Facebook can be attributed to whether users see organic content versus ads. Organic content requires research, whereas advertisements provide information and a direct link to purchase (therefore, the sale is attributed to the platform).
Organic content versus advertising was another big focus of the webinar. Forecasts through 2025 estimate that Facebook and Instagram will have the largest share of consumer-related spending, i.e., people buying directly on the platform because of an ad. For this reason, a mad rush among social networks to offer purchasing tools on their platforms could ensue. What's clear is that the easier you make the purchasing process, the more transactions the platform will generate.
What are the rules for selling on TikTok?
What is certain is that this population of Shoppers (i.e., people who say they frequently purchase on TikTok) is the largest of any other social network.
That's why the e-commerce strategy discussed during the webinar revolves primarily around a 'content-first' approach.
Insider Intelligence talks about the 3 C's rule, which includes:
Community:

Find a niche to build a community easily. Hashtags are crucial here.

Creator:

Don't hesitate to collaborate because it's the reason users switch over to the platform.
It's also worth noting that out of 1,200 people surveyed, almost 50% of those under 18, ages 18-24 and 25-34 attributed more than 10% of the content they watch to influencers and creators. This is what Insider describes as most important for content consumption.
Connection:

This is one of the most macro points of the presentation…
Because on TikTok, you can react to content not only by sharing or commenting, you can also 'duet' the content to create something new. That's why authenticity and transparency come up a lot when users are asked what brand characteristics are important to them.
This means getting away from the seriousness of your brand (if you are usually very 'conservative') and giving creators the freedom to comment on your product or service.
Now you know what you have to do on the platform!
For more content like this, listen to our Elite Commerce podcast.